Are you ready to let out a good cry? Do you want to experience the full range of emotions that come with heartbreak and love? Then look no further than these heartbreakingly sad romance books. These novels are sure to tug at your heartstrings and leave you feeling emotionally drained, but in the best way possible.
Most people run away from sad books. Contrary to popular belief, these novels can be good for the heart. They give the reader an opportunity to learn how to be empathetic and compassionate for others. Sad romance books can help readers experience the emotions that follow difficult decisions and loss before it is experienced in the real world. 
For those who are interested in practicing these skills and learning how to grow emotionally, we have curated a list of heart-wrenching love stories that will leave you in tears.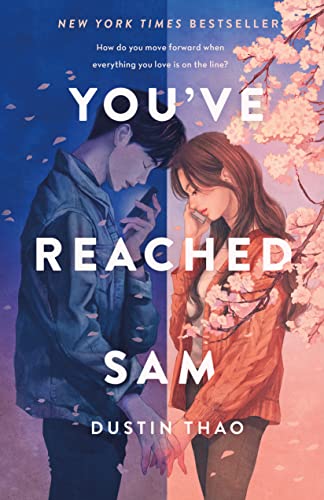 1. You've Reached Sam
by Dustin Thao
Julie Clarke, a 17-year-old girl, had her future all mapped out, which included moving out of her small town with her boyfriend Sam, attending college in the city, and spending a summer in Japan. However, her life takes an unexpected turn when Sam dies, leaving her heartbroken. In an attempt to forget him, she avoids his funeral and disposes of his belongings.
However, a message Sam left in her yearbook triggers her memories, and she calls his cell phone to hear his voicemail recording. To her surprise, Sam picks up the phone, and with each call, Julie falls in love with him all over again. She faces a dilemma of what to do if she had a second chance at saying goodbye.
Dustin Thao's debut novel You've Reached Sam is a poignant and memorable work. Thao skillfully explores themes of mourning, remorse, redemption, and the enduring memories of a first love. Although the book may evoke tears, the emotional journey is ultimately rewarding.
Buy on Amazon
Buy on Nook
Buy on Apple Books
Buy on Kobo
Buy on Google Play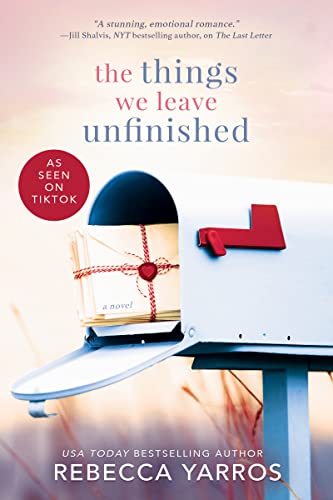 2. Things We Leave Unfinished
by Rebecca Yarros
Noah has achieved great success in his career, with multiple book and movie deals. However, he feels compelled to complete the unfinished work of his literary idol Scarlett Stanton. Complicating matters is Scarlett's great-granddaughter, Georgia, who is beautiful, stubborn, and cynical. As they read through Scarlett's manuscript and letters, they discover that the story is based on Scarlett's own failed romance with a WWII pilot. Despite their undeniable chemistry, Georgia is determined to learn from her great-grandmother's mistakes and avoid the same fate, even if it means jeopardizing Noah's career.
The Things We Leave Unfinished is a story that explores the theme of love, its risks, the lasting effects of emotional wounds, and the unpredictable nature of endings. The novel is narrated through a series of timelines that alternate back and forth.
Buy on Amazon
Buy on Nook
Buy on Apple Books
Buy on Kobo
Buy on Google Play
3. Before We Were Strangers
by Renée Carlino
The story narrates a romantic tale of how a "missed connection" post on Craigslist reunites two individuals, who got separated fifteen years ago, in New York City and gives them a second chance at love.
Before We Were Strangers is a gripping and emotional story that portrays the intense feelings of first love, both the joyous and painful moments. No detail is left out in capturing the essence of this powerful experience. 
"Where do I even begin with Before We Were Strangers, the day it dropped to my kindle I dove in, I devoured the story of Matt and Grace so very quickly, with tears in my eyes I turned the last page with a quiet reverence because I had just finished what was arguably one of my favourite books, I attempted to write a review then and there but no words I found did it justice, there were not enough superlatives to describe it's sheer beauty, no words that were eloquent enough to hold a candle to this enigmatic story about two people who were perfect for each but at the wrong point in their lives."- 5 Star Review
Buy on Amazon
Buy on Nook
Buy on Apple Books
Buy on Kobo
Buy on Google Play
4. If He Had Been With Me
by Renée Carlino
The absence of someone has the power to alter everything. Autumn and Finn were once inseparable, but now they try their best to avoid each other as things between them have changed. Autumn has found love in her boyfriend Jamie and has a close-knit group of friends, while Finn has become the popular boy in school. Despite this, Autumn still feels something every time she sees Finn and wonders if they should be together. However, their paths will soon diverge, and Autumn will have to confront the possibility of a different life if they had never separated.
The central theme of this book is focused on exploring a childhood love that remains unresolved and delicate despite the challenges of growing up. Through gentle and emotional language that draws readers in, the story follows the main characters through four years of high school and the uncertain time after graduation. As the story comes to a close and the author reveals why Finn should have been with Autumn all along, readers are left with a sense of the unpredictability of life.
Buy on Amazon
Buy on Nook
Buy on Apple Books
Buy on Kobo
Buy on Google Play
5. Every Summer After
by Renée Carlino
Persephone Fraser has been living away from her hometown since she made a grave mistake ten years ago. She spends her summers in the city, socializing with friends and keeping her emotions in check. However, she receives a call that compels her to return to Barry's Bay, where she reunites with Sam Florek, the man she never thought she would have to live without.
Percy and Sam had shared a close bond for six summers, spending lazy afternoons on the water, working in Sam's family's restaurant, and reading books together. Their friendship eventually turned into a romantic relationship, but it ended abruptly. When Percy comes back to the lake for Sam's mother's funeral, they both feel the undeniable connection they once had.
Carley Fortune's first book, Every Summer After, takes place in the peaceful cottage country of Ontario and tells the story of Percy and Sam, a couple dealing with grief, unfulfilled promises, and one-sided love. The book uses a "then/now" style of storytelling that covers almost twenty years, and the author skillfully examines the challenges of a relationship that is weighed down by past errors and misinterpretations, showing that the relationship is influenced by both destiny and conscious decision-making.
Buy on Amazon
Buy on Nook
Buy on Apple Books
Buy on Kobo
Buy on Google Play
6. Love and Other Words
by Christina Lauren
Macy Sorensen is a pediatrics resident who has settled into a routine that involves working hard, planning her wedding to a financially stable man, and keeping her emotions in check. However, her carefully constructed world begins to crumble when she unexpectedly meets Elliot Petropoulos, her first love. Elliot used to be Macy's everything, from a gangly friend to the man who helped her open up her heart again after the loss of her mother. But he broke her heart on the night he professed his love for her. Their story is told through alternating timelines between their teenage years and present day, where they have become strangers to each other, until their chance reunion.
Christina Lauren, the New York Times bestselling author, has written a touching and romantic novel called Love and Other Words. In this story, childhood sweethearts who had been separated for ten years, reconnect by chance. How many words will it take for them to figure out what went wrong between them. The novel beautifully portrays that the story of the heart can never be erased.
Buy on Amazon
Buy on Nook
Buy on Apple Books
Buy on Kobo
Buy on Google Play
Escape with Red Feather Romance!
Think of us as your BFF that has the best romance book recommendations in the genres you love. From sweet to steamy to everything in between, we alert you to the best romance reads at the best prices. Sign up to receive the free daily newsletter!